Guest Parking
Parking is available and free for guests on the seminary campus. When entering Wilmore from Lexington (U.S. 29), turn left on East College Street/Jessamine Station Road. (This is the first traffic light in town. Look for a Marathon gas station on the left and the entrance to Asbury University on the right.) After you turn left onto East College Street, you will take first right onto Walnut Street. The available lots are located on either side of N. Walnut Street, on the left. Directional signs can be picked up from Asbury Inn on the day of your wedding to indicate parking, directions to your chapel, and the Reception Hall. Contact the Weddings + Events Manager for more information (859.858.2129, weddings@asburyseminary.edu).
Overnight Accommodations
Just fifteen miles from Lexington and minutes from Nicholasville, the Asbury Inn & Suites boasts comfortable accommodations in the heart of Wilmore, Kentucky. The newly renovated Asbury Inn is available to the public and would love for your out-of-town guests to be our guests as well.
Group rates available. Please contact Asbury Inn & Suites directly for more information (asburyinn.com, 859.858.2156, guest.services@asburyinn.com).

Estes Chapel Dimensions
Front entry doorway: 84.25″ high and 70″ wide
Front entry doors: each 29.75″ wide
Standard Candelabras: 56″ high and 31.5″ wide
In the two central columns, there are four pews in the front, an aisle break, and 15 pews in the back. These each seat seven guests comfortably. Along the left side are 18 pews, along the right are 13 pews. These each sit four guests comfortably.
Each windowsill (7 total) 6.5″ wide, 82″ long
Aisle: 87 feet long, 63 inches wide
Unity candle table: 19.75″ in diameter, 25″ tall
Pulpit (must remain on top tier)
Stationary altar rails
Marriage License
You can obtain your marriage license from a county clerk in Kentucky up to 30 days prior to the wedding. Both the bride and groom must be present to obtain the license.
Jessamine County Clerk: 101 North Main Street, Nicholasville | 859.885.4161 Fayette County Clerk: 162 East Main Street, Lexington | 859.253.3344
Directions & Maps
Asbury Theological Seminary
204 N. Lexington Avenue
Wilmore, KY 40390
800.2ASBURY
asburyseminary.edu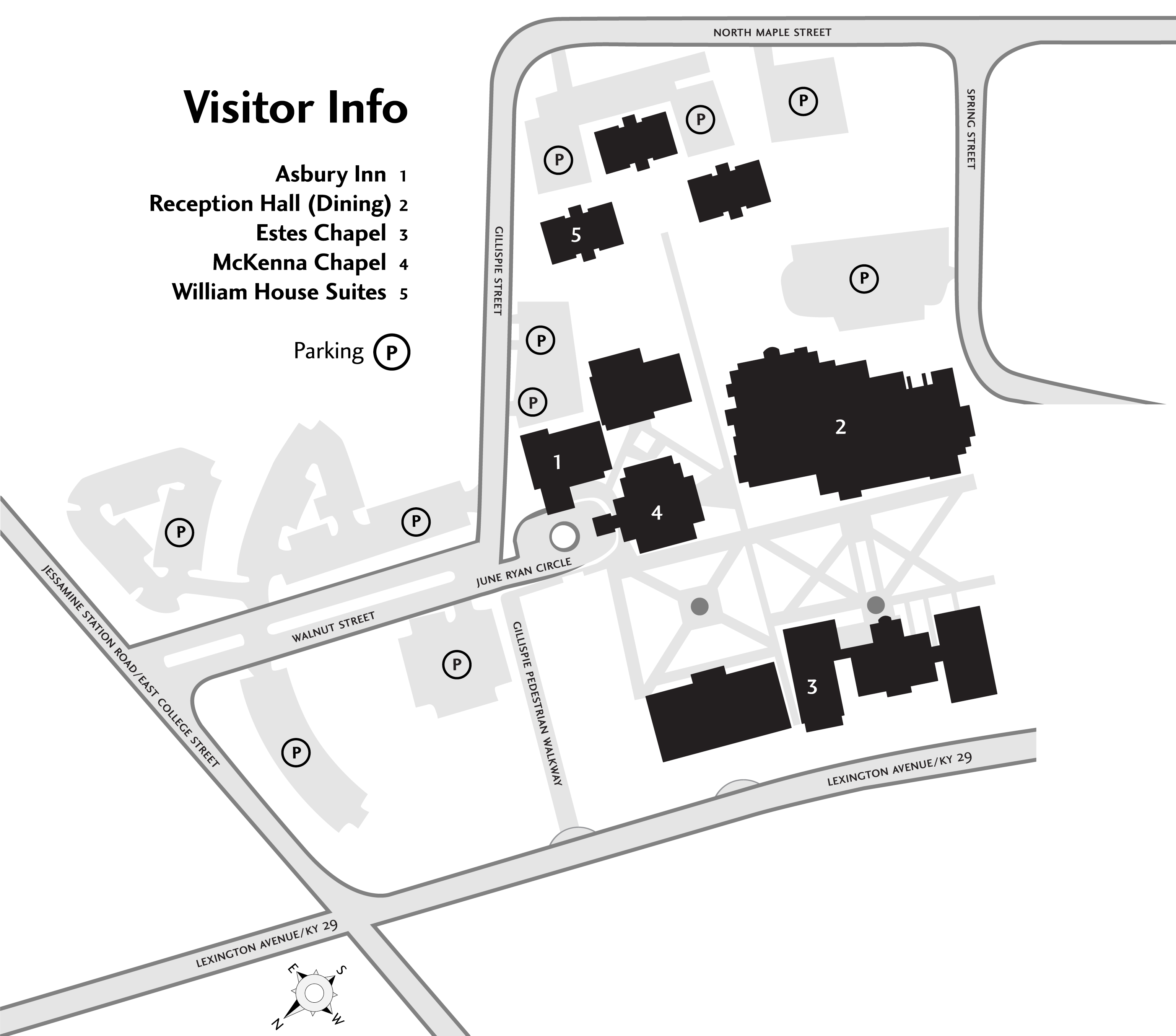 The Asbury Seminary Kentucky campus is located 11 miles south of Lexington, KY.